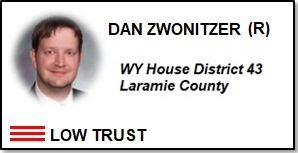 Summary
Representation
Competence
Integrity
More
Dan Zwonizer is a WY House Representative in Laramie County for House District 43 and has served from 2005 to the present. He has received a negative score for all three categories of Representation, Competence and Integrity and therefore has been ranked as Low Trust.
He is up for reelection in 2026.
---
Zwonitzer believes it is a dangerous and scary political philosophy for a party to demand only one way of thinking, which amounts to voting "no" on any compromise or bill outside the party platform.

He said there is a movement of political candidates and lawmakers gaining ground in the Legislature that don't want any government regulation or taxes, and they only run on extreme social issues.

"Maybe if we just didn't have a Legislature for the next decade, we'll see what happens," he told the Wyoming Tribune Eagle this week.
From https://www.wyomingnews.com/news/local_news/will-wyoming-turn-a-darker-shade-of-red/article_d3680c0a-5ca3-11ed-9f22-97d5a3fc393c.html
Overall Zwonitzer earns a (–) for Representation.  From January 2021 to the present, Zwonitzer has deceived his constituents:  He knew he would be moving out of his legislative district (HD43) at the same time he would be directly involved in changing the boundaries of legislative districts (redistricting) as Co-Chair of the 2021/2022 Corporations, Elections & Political Subdivisions Committee, whose official #1 Priority for the interim was "Redistricting of the Wyoming Legislature".
Serendipitously, the redistricting of HD43 now includes Zwontizer's new residence.
Zwonitzer knew he had a conflict of interest on this committee, and should have acknowledged this conflict and requested to be re-assigned to a different committee.  Furthermore, Zwonitzer should have recused himself from voting on 2022 HB0100 – Redistricting of the legislature, and he did not.  Instead he voted on every reading, every amendment, and also served on the concurrence committee for HB0100.
Attendance
It appears that Zwonitzer missed 7 votes in 2023 General Session – all occurring on 2/28/23: 3rd Reading for SF80; SF83; SF108; SF112; SF131; SJR5; and concurrence vote for HB89.
Public Conduct
In 2022 a complaint was filed against Dan Zwonitzer that claimed he no longer resided in House District 43, and instead was residing outside his district at a recently purchased farm.  State statutes specify that if a legislator moves out of their district, that district seat is considered vacant, and a new representative should be appointed.
Additional scrutiny found that Zwonitzer co-chaired the 2022 committee in charge of redistricting proposals (Corporations, Elections and Political Subdivisions Committee) – one of which proposed the expansion of House District 43 to include the neighborhood where Zwonitzer's recently purchased farm is located.
From Wyofile:
Zwonitzer maintains that he does live in his district. The lawmaker and his spouse own several properties in House District 43, he told WyoFile. That includes an apartment complex where he primarily lives. Zwonitzer said he and his youngest child moved into the apartment after his family sold their house and bought a farm outside his district in 2021. That way, Zwonitzer said, his youngest child could remain enrolled in the same school for the duration of his junior high years.
"It's no secret to anybody that we bought a farm east of town," Zwonitzer said, referring to the dozens of chickens, ducks, geese and turkeys his family now owns and the extra eggs he has delivered to the secretary of state and the Legislative Services Office, among others.
Secretary of state refers Zwonitzer complaint to the House, Jan 27, 2022.
According to KGAB, ultimately the WY House of Representatives took no action against Zwonitzer, however there were four residents in HD43 that had filed a lawsuit against Zwonitzer.
Whether Zwonitzer lived in HD43 or not for the time period argued above appears to remain legally unresolved.  However, he unquestionably served on the Corporations, Elections & Political Subdivisions Committee (from 2021 to 2022) that expanded the boundaries of HB43 which now includes his new residence.
Sponsorship History
In 2023 Zwonitzer co-sponsored 13 bills and co-sponsored 34 bills among a variety of topics.  For more see Zwonitzer's legislative webpage.
Committee Assignments
2023-House Labor, Health & Social Services – Chairman
2023-Select Committee on Legislative Facilities, Technology and Process – Chairman
2023-Management Council
2023-House Revenue
2023-House Rules & Procedure
2023-Mental Health & Vulnerable Adult Task Force
2023-Subcommittee on Legislator Ethics Complaint Procedure
2023-NCSL – Redistricting and Elections Task Force
2023-NCSL – Task Force on Innovations in State Health Systems
Zwonitzer scored a (–) for Constitutional Competence with an average of 23.07% on the constitutional issues listed below.
Constitutional issue categories that have a "N/A" grade, refer to specific bills that Zwonitzer did not have the opportunity to vote on.  It is relevant that Zwonitzer cosponsored 2023 SF0114 – Constitutional instruction and examination requirements, but it failed before going to the House.
For more on the bills used to analyze these scores click here.  Special hat-tip goes out to Evidence Based Wyoming for use of their statistical tool to generate the following vote scores:
Conflicts
Zwontizer has scored a (–) for Integrity.
According to Zwonitzer, he and his family own multiple properties, including an "apartment complex".  Aside from his current residence (Crow Creek Ranch LLC), Zwonitzer failed to report this apartment complex, or any other income properties, as a business interest or source of income in his 2023 State Elected Officials Financial Disclosure.  According to WY statutes 9-13-108 through 109, our understanding is that this nondisclosure is a violation with penalties, including removal from office.
Furthermore, Zwonitzer has sponsored, co-sponsored, and/or voted on bills that effect rental properties and owners of rental properties:
Lastly, because Zwonitzer has conflict(s) and ethics issues we do not believe he should be serving on the 2023-Subcommittee on Legislator Ethics Complaint Procedure.
Employment/Income
According to Dan Zwonitzer's 2023 State Elected Officials Financial Disclosure available at Wyofile, he reports the following:
Salaried employment as ODL Partner at Cheyenne Regional Medical Center
*Laramie County Community College Employer
**Crow Creek Ranch (Business Interest)
Income earned from "security or interest earnings"
*At his legislative webpage Zwonitzer reports he works at Laramie County Community College in "Academic Affairs".  At this WyomingNews article he reports that he teaches political science.
**The Crow Creek Ranch is a historical WY Ranch that was apparently purchased in Feb 2021 by Zwontizer's husband.  At the WY Secretary of State's website, Zwonitzer's husband is listed as the organizer of Crow Creek Ranch LLC.  This ranch is tied to the residency issue noted on the Representation tab for Zwonitzer.
Memberships/Civics Organizations
Member, Cheyenne Duplicate Bridge Club, present
Member, Kiwanis Club, present
Member, Wyoming Auctioneers Association, present
Member, Youth Alternatives, present
Member, National Conference of State Legislatures, Communications, Financial Services and Interstate Commerce
Member, National Conference of State Legislatures, Redistricting and Elections
Liaison, State Building Commission
Member, State Workforce Investment Board
Member, Workforce Development Council
Legislative Advisor/Director, Wyoming Boys State, 2005-2017
(Resource: Vote Smart)
Campaign Contributions
The table below shows all campaign contributions reported by the WY Secretary of State for Vote Zwonitzer; Zwonitzer for House 43; Daniel Kent Zwonitzer; Dan Zwonitzer.  Note that Zwonitzer has served in the WY legislature since 2005.  The WY Secretary of State only provides records that date back to 2010.
From 2010 to 2022 Zwonitzer received approximately 160 contributions that total $60,675.  Of the 160 donations, approximately 150 were from PACs &/or campaign committees.  The total amount Zwontizer received from PACs &/or campaign committees was approximately $58,625.00 – which is approximately 97% of total donations received.
Noteworthy PAC contributions to Zwonitzer are:
Cowboy PAC, $5,000 (a Leadership PAC affiliated with Liz Cheney. (Source.)
$100 from Diamond Free Enterprise PAC (RINO Donor)
$150 from True family dynasty member
$300 from SMART-TD PAC
$1,000 total from United Transportation Union PAC
$2,000 total from WY PUBLIC EMPLOYEES ASSN. PAC
$1,700 total from WY Teachers Union – WY Education Assn. PAC for Education
$500 from Wyoming AFL-CIO
$2,400 total from ESG compliant energy company PACs:

$750 total from DECPAC/Devon Energy Corporation PAC
$300 total from MDU Resources Group Good Government Fund
$250 from NextEra Energy PAC
$1,100 total from Pacific Power/Rocky Mountain Power PAC

Medical/Pharmaceutical

$900 total from Pfizer PAC
$800 total from Wyoming Medical Society PAC
$1,000 total from Wyoming Hospital Association PAC

$2,500 total from CONPAC Contractors PAC
$1,750 total from Cowboy Games PAC
Click the arrows at the top of columns to sort the data by name, date, $ amount, etc.  (Data is publicly available records obtained from the Wyoming Secretary of State's Wyoming's Campaign Finance Information System.)
| Contributor Name | Recipient Name | Recipient Type | Contribution Type | Date | Filing Status | Amount | City State Zip |
| --- | --- | --- | --- | --- | --- | --- | --- |
| GROUP, THOMPSON (CHEYENNE) | VOTE ZWONITZER | CANDIDATE COMMITTEE | MONETARY | 11/9/2022 | AMEND - ADD | 200 | CHEYENNE, WY 82001 |
| MDU RESOURCES GROUP GOOD GOVERNMENT FUND (BISMARCK) | VOTE ZWONITZER | CANDIDATE COMMITTEE | MONETARY | 11/4/2022 | AMEND - ADD | 100 | BISMARCK, ND 58506 |
| TRUCKING INDUSTRY PAC (CASPER) | VOTE ZWONITZER | CANDIDATE COMMITTEE | MONETARY | 11/4/2022 | AMEND - ADD | 100 | CASPER, WY 82602 |
| DENBURY RESOURCES INC. POLITICAL COMMITTEE (PLANO) | VOTE ZWONITZER | CANDIDATE COMMITTEE | MONETARY | 11/2/2022 | AMEND - ADD | 500 | PLANO, TX 75024 |
| PACIFIC POWER/ROCKY MOUNTAIN POWER PAC (PORTLAND) | VOTE ZWONITZER | CANDIDATE COMMITTEE | MONETARY | 10/28/2022 | FILED | 300 | PORTLAND, OR 97232 |
| FFF WY FIREPAC (CHEYENNE) | VOTE ZWONITZER | CANDIDATE COMMITTEE | MONETARY | 10/12/2022 | FILED | 500 | CHEYENNE, WY 82003 |
| COWBOY GAMES PAC (SHERIDAN) | VOTE ZWONITZER | CANDIDATE COMMITTEE | MONETARY | 8/17/2022 | FILED | 1500 | SHERIDAN, WY 82801 |
| FFFWY FIRE PAC (CHEYENNE) | VOTE ZWONITZER | CANDIDATE COMMITTEE | MONETARY | 8/8/2022 | FILED | 1000 | CHEYENNE, WY 82003 |
| LAWYERS ACTIVE IN WY PAC (LAWPAC) (CHEYENNE) | VOTE ZWONITZER | CANDIDATE COMMITTEE | MONETARY | 8/8/2022 | FILED | 750 | CHEYENNE, WY 82001 |
| COWBOY PAC (ARLINGTON) | VOTE ZWONITZER | CANDIDATE COMMITTEE | MONETARY | 8/6/2022 | FILED | 5000 | ARLINGTON, VA 22206 |
| CHARTER COMMUNICATIONS, INC. PAC (STAMFORD) | VOTE ZWONITZER | CANDIDATE COMMITTEE | MONETARY | 8/5/2022 | FILED | 1000 | STAMFORD, CT 06901 |
| WYOMING AFL-CIO (CASPER) | VOTE ZWONITZER | CANDIDATE COMMITTEE | MONETARY | 7/29/2022 | FILED | 500 | CASPER, WY 82601 |
| FARMERS INSURANCE AGENTS AND EMPLOYEE(FEAPAC) MEMBERS OF WYOMING (CHEYENNE) | VOTE ZWONITZER | CANDIDATE COMMITTEE | MONETARY | 7/27/2022 | FILED | 1000 | CHEYENNE, WY 82001 |
| WY PUBLIC EMPLOYEES ASSN. PAC (CHEYENNE) | VOTE ZWONITZER | CANDIDATE COMMITTEE | MONETARY | 7/25/2022 | FILED | 500 | CHEYENNE, WY 82003 |
| WYO PAC (WYOMING MEDICAL PAC) (CHEYENNE) | VOTE ZWONITZER | CANDIDATE COMMITTEE | MONETARY | 7/25/2022 | FILED | 500 | CHEYENNE, WY 82003 |
| LEE, KRISTEN (CHEYENNE) | VOTE ZWONITZER | CANDIDATE COMMITTEE | MONETARY | 7/20/2022 | FILED | 200 | CHEYENNE, WY 82001 |
| BLACKWELDER, GARRETT (CHARLESTON) | VOTE ZWONITZER | CANDIDATE COMMITTEE | MONETARY | 7/15/2022 | FILED | 500 | CHARLESTON, SC 29407 |
| CIGNA POL ACTION COMMITTEE (PHILADELPHIA) | VOTE ZWONITZER | CANDIDATE COMMITTEE | MONETARY | 7/15/2022 | FILED | 500 | PHILADELPHIA, PA 19191 |
| GERINGER, LEONARD (CHEYENNE) | VOTE ZWONITZER | CANDIDATE COMMITTEE | MONETARY | 7/15/2022 | FILED | 100 | CHEYENNE, WY 82001 |
| SMART-TD PAC (NORTH OLMSTED) | VOTE ZWONITZER | CANDIDATE COMMITTEE | MONETARY | 7/11/2022 | FILED | 300 | NORTH OLMSTED, OH 44070 |
| ONEOK EMPLOYEES PAC (SHAWNEE MISSION) | VOTE ZWONITZER | CANDIDATE COMMITTEE | MONETARY | 7/8/2022 | FILED | 250 | SHAWNEE MISSION, KS 66225 |
| WYOMING HOSPITAL ASSOCIATION PAC (CHEYENNE) | VOTE ZWONITZER | CANDIDATE COMMITTEE | MONETARY | 7/8/2022 | FILED | 500 | CHEYENNE, WY 82001 |
| WLRAPAC (CHEYENNE) | VOTE ZWONITZER | CANDIDATE COMMITTEE | MONETARY | 6/27/2022 | FILED | 400 | CHEYENNE, WY 82009 |
| WY EDUCATION ASSN. PAC FOR EDUCATION (CHEYENNE) | VOTE ZWONITZER | CANDIDATE COMMITTEE | MONETARY | 6/27/2022 | FILED | 300 | CHEYENNE, WY 82001 |
| CONPAC CONTRACTORS PAC (CHEYENNE) | VOTE ZWONITZER | CANDIDATE COMMITTEE | MONETARY | 6/20/2022 | FILED | 1500 | CHEYENNE, WY 82003 |
| WYOMING MINING ASSOCIATION PAC (WMA) (CHEYENNE) | VOTE ZWONITZER | CANDIDATE COMMITTEE | MONETARY | 6/19/2022 | FILED | 200 | CHEYENNE, WY 82001 |
| BNSF RAILPAC (FT WORTH) | VOTE ZWONITZER | CANDIDATE COMMITTEE | MONETARY | 6/16/2022 | FILED | 750 | FT WORTH, TX 76161 |
| WY REALTORS PAC (CASPER) | VOTE ZWONITZER | CANDIDATE COMMITTEE | MONETARY | 6/16/2022 | FILED | 2500 | CASPER, WY 82604 |
| PICARD, DAVE (CHEYENNE) | VOTE ZWONITZER | CANDIDATE COMMITTEE | MONETARY | 6/12/2022 | FILED | 200 | CHEYENNE, WY 82001 |
| UNION PACIFIC CORPORATION FUND FOR EFFECTIVE GOVERNMENT (WASHINGTON) | VOTE ZWONITZER | CANDIDATE COMMITTEE | MONETARY | 10/7/2020 | FILED | 300 | WASHINGTON, DC 20005 |
| FFFWY FIRE PAC (CHEYENNE) | VOTE ZWONITZER | CANDIDATE COMMITTEE | MONETARY | 10/1/2020 | FILED | 500 | CHEYENNE, WY 82003 |
| FARMERS INSURANCE AGENTS AND EMPLOYEE(FEAPAC) MEMBERS OF WYOMING (CHEYENNE) | VOTE ZWONITZER | CANDIDATE COMMITTEE | MONETARY | 9/26/2020 | FILED | 500 | CHEYENNE, WY 82001 |
| WYOMING STOCK GROWERS' AG PAC (CHEYENNE) | VOTE ZWONITZER | CANDIDATE COMMITTEE | MONETARY | 9/24/2020 | FILED | 100 | CHEYENNE, WY 82003 |
| CHARTER COMMUNICATIONS, INC. PAC (STAMFORD) | VOTE ZWONITZER | CANDIDATE COMMITTEE | MONETARY | 8/12/2020 | AMEND - ADD | 300 | STAMFORD, CT 06901 |
| CHEYENNE PAC (CHEYENNE) | VOTE ZWONITZER | CANDIDATE COMMITTEE | MONETARY | 8/11/2020 | AMEND - ADD | 500 | CHEYENNE, WY 82003 |
| IFA PAC - WYOMING (CHEYENNE) | VOTE ZWONITZER | CANDIDATE COMMITTEE | MONETARY | 8/11/2020 | AMEND - ADD | 500 | CHEYENNE, WY 82009 |
| WY REALTORS PAC (CASPER) | VOTE ZWONITZER | CANDIDATE COMMITTEE | MONETARY | 8/6/2020 | FILED | 1000 | CASPER, WY 82604 |
| COWBOY GAMES PAC (SHERIDAN) | VOTE ZWONITZER | CANDIDATE COMMITTEE | MONETARY | 8/3/2020 | FILED | 250 | SHERIDAN, WY 82801 |
| ALLSTATE INSURANCE COMPANY PAC (ALLPAC) (NORTHBROOK) | VOTE ZWONITZER | CANDIDATE COMMITTEE | MONETARY | 7/30/2020 | FILED | 150 | NORTHBROOK, IL 60062 |
| DEVON ENERGY CORPORATION PAC (OKLAHOMA CITY) | VOTE ZWONITZER | CANDIDATE COMMITTEE | MONETARY | 7/30/2020 | FILED | 500 | OKLAHOMA CITY, OK 73102 |
| MOTOROLA SOLUTIONS, INC. PAC (WASHINGTON ) | VOTE ZWONITZER | CANDIDATE COMMITTEE | MONETARY | 7/30/2020 | FILED | 500 | WASHINGTON , DC 20004 |
| CIGNA POL ACTION COMMITTEE (PHILADELPHIA) | VOTE ZWONITZER | CANDIDATE COMMITTEE | MONETARY | 7/27/2020 | FILED | 375 | PHILADELPHIA, PA 19191 |
| CONPAC (CHEYENNE) | VOTE ZWONITZER | CANDIDATE COMMITTEE | MONETARY | 7/27/2020 | FILED | 500 | CHEYENNE, WY 82003 |
| DIAMOND FREE ENTERPRISE PAC (CASPER) | VOTE ZWONITZER | CANDIDATE COMMITTEE | MONETARY | 7/27/2020 | FILED | 100 | CASPER, WY 82601 |
| NEXTERA ENERGY PAC (JUNO BEACH) | VOTE ZWONITZER | CANDIDATE COMMITTEE | MONETARY | 7/27/2020 | FILED | 250 | JUNO BEACH, FL 33408 |
| TRUE, DAVID L (CASPER) | VOTE ZWONITZER | CANDIDATE COMMITTEE | MONETARY | 7/27/2020 | FILED | 150 | CASPER, WY 82602 |
| BLACK HILLS CORPORATION PAC (RAPID CITY) | VOTE ZWONITZER | CANDIDATE COMMITTEE | MONETARY | 7/20/2020 | FILED | 500 | RAPID CITY, SD 57709 |
| BURNS, BRUCE (SHERIDAN) | VOTE ZWONITZER | CANDIDATE COMMITTEE | MONETARY | 7/20/2020 | FILED | 100 | SHERIDAN, WY 82801 |
| HOLLYFRONTIERCORPORATION PAC (DALLAS) | VOTE ZWONITZER | CANDIDATE COMMITTEE | MONETARY | 7/20/2020 | FILED | 250 | DALLAS, TX 75201 |
| WY PUBLIC EMPLOYEES ASSN. PAC (CHEYENNE) | VOTE ZWONITZER | CANDIDATE COMMITTEE | MONETARY | 7/20/2020 | FILED | 500 | CHEYENNE, WY 82003 |
| WY EDUCATION ASSN. PAC FOR EDUCATION (CHEYENNE) | VOTE ZWONITZER | CANDIDATE COMMITTEE | MONETARY | 7/6/2020 | FILED | 600 | CHEYENNE, WY 82001 |
| BNSF RAILPAC (FT WORTH) | VOTE ZWONITZER | CANDIDATE COMMITTEE | MONETARY | 7/2/2020 | FILED | 200 | FT WORTH, TX 76161 |
| WYOMING HOSPITAL ASSOCIATION PAC (CHEYENNE) | VOTE ZWONITZER | CANDIDATE COMMITTEE | MONETARY | 7/2/2020 | FILED | 500 | CHEYENNE, WY 82001 |
| LAWYERS ACTIVE IN WY PAC (LAWPAC) (CHEYENNE) | VOTE ZWONITZER | CANDIDATE COMMITTEE | MONETARY | 6/29/2020 | FILED | 500 | CHEYENNE, WY 82001 |
| H&H FEDERAL PAC (DENVER) | VOTE ZWONITZER | CANDIDATE COMMITTEE | MONETARY | 6/26/2020 | FILED | 500 | DENVER, CO 80202 |
| JENSEN, BOB (CHEYENNE) | VOTE ZWONITZER | CANDIDATE COMMITTEE | MONETARY | 6/26/2020 | FILED | 100 | CHEYENNE, WY 82009 |
| WYOMING MINING ASSOCIATION PAC (WMA) (CHEYENNE) | VOTE ZWONITZER | CANDIDATE COMMITTEE | MONETARY | 6/24/2020 | FILED | 200 | CHEYENNE, WY 82001 |
| WLRAPAC (CHEYENNE) | VOTE ZWONITZER | CANDIDATE COMMITTEE | MONETARY | 6/22/2020 | FILED | 400 | CHEYENNE, WY 82009 |
| THOMPSON, BILL & TONI (CHEYENNE) | VOTE ZWONITZER | CANDIDATE COMMITTEE | MONETARY | 6/19/2020 | FILED | 500 | CHEYENNE, WY 82001 |
| JOYCE, EUGENE (EVANSTON) | VOTE ZWONITZER | CANDIDATE COMMITTEE | MONETARY | 6/18/2020 | FILED | 500 | EVANSTON, WY 82930 |
| WY RURAL ELECTRIC ASSN. PAC (CHEYENNE) | VOTE ZWONITZER | CANDIDATE COMMITTEE | MONETARY | 6/10/2020 | FILED | 500 | CHEYENNE, WY 82001 |
| UNION PACIFIC CORPORATION FUND FOR EFFECTIVE GOVERNMENT (WASHINGTON) | VOTE ZWONITZER | CANDIDATE COMMITTEE | MONETARY | 12/18/2019 | FILED | 250 | WASHINGTON, DC 20005 |
| CIGNA POL ACTION COMMITTEE (PHILADELPHIA) | VOTE ZWONITZER | CANDIDATE COMMITTEE | MONETARY | 12/1/2019 | FILED | 250 | PHILADELPHIA, PA 19191 |
| PFIZER PAC (NEW YORK) | VOTE ZWONITZER | CANDIDATE COMMITTEE | MONETARY | 11/20/2019 | FILED | 200 | NEW YORK, NY 10017 |
| ALLPAC (ENGLEWOOD) | VOTE ZWONITZER | CANDIDATE COMMITTEE | MONETARY | 10/1/2019 | FILED | 150 | ENGLEWOOD, CO 80112 |
| BLACK HILLS CORPORATION PAC (RAPID CITY) | VOTE ZWONITZER | CANDIDATE COMMITTEE | MONETARY | 11/7/2018 | FILED | 125 | RAPID CITY, SD 57709 |
| WYO PAC (WYOMING MEDICAL PAC) (CHEYENNE) | VOTE ZWONITZER | CANDIDATE COMMITTEE | MONETARY | 11/5/2018 | FILED | 200 | CHEYENNE, WY 82003 |
| WE ARE NORML (RALSTON) | VOTE ZWONITZER | CANDIDATE COMMITTEE | MONETARY | 11/2/2018 | FILED | 100 | RALSTON, WY 82440 |
| MDU RESOURCES GROUP GOOD GOVERNMENT FUND (BISMARCK) | VOTE ZWONITZER | CANDIDATE COMMITTEE | MONETARY | 11/1/2018 | FILED | 200 | BISMARCK, ND 58506 |
| CHARTER COMMUNICATIONS, INC. PAC (STAMFORD) | VOTE ZWONITZER | CANDIDATE COMMITTEE | MONETARY | 10/19/2018 | FILED | 300 | STAMFORD, CT 06901 |
| TRUCKING INDUSTRY PAC (CASPER) | VOTE ZWONITZER | CANDIDATE COMMITTEE | MONETARY | 10/12/2018 | FILED | 100 | CASPER, WY 82602 |
| WYOMING MINING ASSOCIATION PAC (WMA) (CHEYENNE) | VOTE ZWONITZER | CANDIDATE COMMITTEE | MONETARY | 10/5/2018 | FILED | 100 | CHEYENNE, WY 82001 |
| FFFWY FIRE PAC (CHEYENNE) | VOTE ZWONITZER | CANDIDATE COMMITTEE | MONETARY | 10/3/2018 | FILED | 500 | CHEYENNE, WY 82003 |
| ALLSTATE INSURANCE COMPANY PAC (ALLPAC) (NORTHBROOK) | VOTE ZWONITZER | CANDIDATE COMMITTEE | MONETARY | 10/1/2018 | FILED | 150 | NORTHBROOK, IL 60062 |
| ANDEAVOR (SAN ANTONIO) | VOTE ZWONITZER | CANDIDATE COMMITTEE | MONETARY | 9/13/2018 | FILED | 200 | SAN ANTONIO, TX 78259 |
| BNSF RAILPAC (FT WORTH) | VOTE ZWONITZER | CANDIDATE COMMITTEE | MONETARY | 9/13/2018 | FILED | 300 | FT WORTH, TX 76161 |
| PACIFIC POWER/ROCKY MOUNTAIN POWER PAC (PORTLAND) | VOTE ZWONITZER | CANDIDATE COMMITTEE | MONETARY | 9/13/2018 | FILED | 300 | PORTLAND, OR 97232 |
| UNION PACIFIC CORPORATION FUND FOR EFFECTIVE GOVERNMENT (WASHINGTON) | VOTE ZWONITZER | CANDIDATE COMMITTEE | MONETARY | 8/20/2018 | FILED | 250 | WASHINGTON, DC 20005 |
| CHESAPEAKE ENERGY CORPORATION FEDERAL PAC (OKLAHOMA CITY) | VOTE ZWONITZER | CANDIDATE COMMITTEE | MONETARY | 8/6/2018 | FILED | 250 | OKLAHOMA CITY, OK 73154 |
| FFFWY FIRE PAC (CHEYENNE) | VOTE ZWONITZER | CANDIDATE COMMITTEE | MONETARY | 8/1/2018 | FILED | 500 | CHEYENNE, WY 82003 |
| PFIZER PAC (NEW YORK) | VOTE ZWONITZER | CANDIDATE COMMITTEE | MONETARY | 8/1/2018 | FILED | 200 | NEW YORK, NY 10017 |
| CENTURYLINK, INC., EMPLOYEES PAC (WASHINGTON) | VOTE ZWONITZER | CANDIDATE COMMITTEE | MONETARY | 11/10/2016 | FILED | 350 | WASHINGTON, DC 20001 |
| CHARTER COMMUNICATIONS, INC. PAC (STAMFORD) | VOTE ZWONITZER | CANDIDATE COMMITTEE | MONETARY | 10/27/2016 | FILED | 300 | STAMFORD, CT 06901 |
| UNION PACIFIC CORPORATION FUND FOR EFFECTIVE GOVERNMENT (WASHINGTON D.C.) | VOTE ZWONITZER | CANDIDATE COMMITTEE | MONETARY | 10/9/2016 | FILED | 300 | WASHINGTON D.C., DC 20005 |
| TRUCKING INDUSTRY PAC (CASPER) | VOTE ZWONITZER | CANDIDATE COMMITTEE | MONETARY | 10/8/2016 | FILED | 100 | CASPER, WY 82602 |
| PFIZER PAC (NEW YORK) | VOTE ZWONITZER | CANDIDATE COMMITTEE | MONETARY | 10/5/2016 | FILED | 250 | NEW YORK, NY 10017 |
| WYOMING MINING ASSOCIATION PAC (WMA) (CHEYENNE) | VOTE ZWONITZER | CANDIDATE COMMITTEE | MONETARY | 9/28/2016 | FILED | 100 | CHEYENNE, WY 82003 |
| WESTERN, CYRUS (SHERIDAN) | VOTE ZWONITZER | CANDIDATE COMMITTEE | MONETARY | 8/10/2016 | FILED | 100 | SHERIDAN, WY 82801 |
| ALLSTATE INSURANCE COMPANY PAC (ALLPAC) (NORTHBROOK) | VOTE ZWONITZER | CANDIDATE COMMITTEE | MONETARY | 8/3/2016 | FILED | 200 | NORTHBROOK, IL 60062 |
| BNSF RAILPAC (FT WORTH) | VOTE ZWONITZER | CANDIDATE COMMITTEE | MONETARY | 8/3/2016 | FILED | 400 | FT WORTH, TX 76161 |
| PACIFIC POWER/ROCKY MOUNTAIN POWER PAC (PORTLAND) | VOTE ZWONITZER | CANDIDATE COMMITTEE | MONETARY | 8/3/2016 | FILED | 300 | PORTLAND, OR 97232 |
| TESORO PAC (SALT LAKE CITY) | VOTE ZWONITZER | CANDIDATE COMMITTEE | MONETARY | 8/2/2016 | FILED | 200 | SALT LAKE CITY, UT 84103 |
| BLACK HILLS CORPORATION PAC (RAPID CITY) | VOTE ZWONITZER | CANDIDATE COMMITTEE | MONETARY | 7/26/2016 | FILED | 500 | RAPID CITY, SD 57709 |
| UNITED TRANSPORTATION UNION PAC (NORTH OMSTEAD) | VOTE ZWONITZER | CANDIDATE COMMITTEE | MONETARY | 7/25/2016 | FILED | 200 | NORTH OMSTEAD, OH 44070 |
| WY PUBLIC EMPLOYEES ASSN. PAC (CHEYENNE) | VOTE ZWONITZER | CANDIDATE COMMITTEE | MONETARY | 7/25/2016 | FILED | 500 | CHEYENNE, WY 82003 |
| WY RURAL ELECTRIC ASSN. PAC (CHEYENNE) | VOTE ZWONITZER | CANDIDATE COMMITTEE | MONETARY | 7/25/2016 | FILED | 750 | CHEYENNE, WY 82001 |
| CHESAPEAKE ENERGY CORPORATION FEDERAL PAC (OKLAHOMA CITY) | VOTE ZWONITZER | CANDIDATE COMMITTEE | MONETARY | 7/12/2016 | FILED | 250 | OKLAHOMA CITY, OK 73154 |
| LAWYERS ACTIVE IN WY PAC (LAWPAC) (CHEYENNE) | VOTE ZWONITZER | CANDIDATE COMMITTEE | MONETARY | 7/1/2016 | FILED | 500 | CHEYENNE, WY 82001 |
| WYOMING MINING ASSOCIATION PAC (WMA) (CHEYENNE) | VOTE ZWONITZER | CANDIDATE COMMITTEE | MONETARY | 7/1/2016 | FILED | 200 | CHEYENNE, WY 82003 |
| DECPAC (OKLAHOMA CITY) | VOTE ZWONITZER | CANDIDATE COMMITTEE | MONETARY | 6/30/2016 | FILED | 250 | OKLAHOMA CITY, OK 73102 |
| WLRAPAC (CHEYENNE) | VOTE ZWONITZER | CANDIDATE COMMITTEE | MONETARY | 6/29/2016 | FILED | 200 | CHEYENNE, WY 82003 |
| FARMERS INSURANCE AGENTS AND EMPLOYEE(FEAPAC) MEMBERS OF WYOMING (CHEYENNE) | VOTE ZWONITZER | CANDIDATE COMMITTEE | MONETARY | 6/28/2016 | FILED | 1000 | CHEYENNE, WY 82001 |
| FFFWY FIRE PAC (CHEYENNE) | VOTE ZWONITZER | CANDIDATE COMMITTEE | MONETARY | 6/20/2016 | FILED | 500 | CHEYENNE, WY 82003 |
| PAW POLITICAL ACTION COUNCIL (CASPER) | VOTE ZWONITZER | CANDIDATE COMMITTEE | MONETARY | 6/15/2016 | FILED | 250 | CASPER, WY 82601 |
| WY REALTORS PAC (CASPER) | VOTE ZWONITZER | CANDIDATE COMMITTEE | MONETARY | 6/10/2016 | FILED | 1000 | CASPER, WY 82601 |
| BOSWELL, CHRISTOPHER (CHEYENNE) | VOTE ZWONITZER | CANDIDATE COMMITTEE | MONETARY | 6/1/2016 | FILED | 250 | CHEYENNE, WY 82001 |
| AT&T INC. FEDERAL PAC (DALLAS) | VOTE ZWONITZER | CANDIDATE COMMITTEE | MONETARY | 8/1/2015 | FILED | 150 | DALLAS, TX 75202 |
| CENTURYLINK, INC., EMPLOYEES PAC (WASHINGTON) | VOTE ZWONITZER | CANDIDATE COMMITTEE | MONETARY | 8/1/2015 | FILED | 150 | WASHINGTON, DC 20001 |
| BLACK HILLS CORPORATION PAC (RAPID CITY) | VOTE ZWONITZER | CANDIDATE COMMITTEE | MONETARY | 10/20/2014 | FILED | 250 | RAPID CITY, SD 57709 |
| WYOMING CONSTRUCTION COALITION POLITICAL ACTION COMMITTEE (CASPER) | VOTE ZWONITZER | CANDIDATE COMMITTEE | MONETARY | 10/15/2014 | FILED | 250 | CASPER, WY 82601 |
| PFIZER PAC (NEW YORK) | VOTE ZWONITZER | CANDIDATE COMMITTEE | MONETARY | 10/1/2014 | FILED | 250 | NEW YORK, NY 10017 |
| TRUCKING INDUSTRY PAC (CASPER) | VOTE ZWONITZER | CANDIDATE COMMITTEE | MONETARY | 10/1/2014 | FILED | 100 | CASPER, WY 82602 |
| WY REALTORS PAC (CASPER) | VOTE ZWONITZER | CANDIDATE COMMITTEE | MONETARY | 10/1/2014 | FILED | 250 | CASPER, WY 82601 |
| WYOMING STOCK GROWERS' AG PAC (CHEYENNE) | VOTE ZWONITZER | CANDIDATE COMMITTEE | MONETARY | 10/1/2014 | FILED | 100 | CHEYENNE, WY 82003 |
| EXXONMOBILE PAC (IRVING) | VOTE ZWONITZER | CANDIDATE COMMITTEE | MONETARY | 9/9/2014 | FILED | 150 | IRVING, TX 75039 |
| CENTURYLINK, INC., EMPLOYEES PAC (WASHINGTON) | VOTE ZWONITZER | CANDIDATE COMMITTEE | MONETARY | 9/2/2014 | FILED | 300 | WASHINGTON, DC 20001 |
| WYO-D-PAC (CASPER) | VOTE ZWONITZER | CANDIDATE COMMITTEE | MONETARY | 8/13/2014 | FILED | 100 | CASPER, WY 82601 |
| WLRAPAC (CHEYENNE) | VOTE ZWONITZER | CANDIDATE COMMITTEE | MONETARY | 8/11/2014 | FILED | 200 | CHEYENNE, WY 82003 |
| BNSF RAILPAC (FT WORTH) | VOTE ZWONITZER | CANDIDATE COMMITTEE | MONETARY | 8/6/2014 | FILED | 200 | FT WORTH, TX 76161 |
| CHEYENNE PAC (CHEYENNE) | VOTE ZWONITZER | CANDIDATE COMMITTEE | MONETARY | 8/6/2014 | FILED | 500 | CHEYENNE, WY 82003 |
| LAWYERS ACTIVE IN WY PAC (LAWPAC) (CHEYENNE) | VOTE ZWONITZER | CANDIDATE COMMITTEE | MONETARY | 8/6/2014 | FILED | 250 | CHEYENNE, WY 82001 |
| INTERNATIONAL ASSOCIATION OF FIREFIIGHTERS (WASHINGTON) | VOTE ZWONITZER | CANDIDATE COMMITTEE | MONETARY | 8/1/2014 | FILED | 500 | WASHINGTON, DC 20006 |
| PACIFICORP/MIDAMERICAN PAC (PORTLAND) | VOTE ZWONITZER | CANDIDATE COMMITTEE | MONETARY | 8/1/2014 | FILED | 200 | PORTLAND, OR 97232 |
| CONPAC CONTRACTORS PAC (CHEYENNE) | VOTE ZWONITZER | CANDIDATE COMMITTEE | MONETARY | 7/28/2014 | FILED | 250 | CHEYENNE, WY 82003 |
| BROTHERHOOD OF LOCOMOTIVE ENGINEERS AND TRAINMEN PAC (CHEYENNE) | VOTE ZWONITZER | CANDIDATE COMMITTEE | MONETARY | 7/26/2014 | FILED | 500 | CHEYENNE, WY 82009 |
| BP NORTH AMERICA EMPLOYEE PAC (HOUSTON ) | VOTE ZWONITZER | CANDIDATE COMMITTEE | MONETARY | 7/20/2014 | FILED | 250 | HOUSTON , TX 77079 |
| FARMERS EMPLOYEE & AGENT WYOMING PAC (CHEYENNE) | VOTE ZWONITZER | CANDIDATE COMMITTEE | MONETARY | 7/14/2014 | FILED | 1000 | CHEYENNE, WY 82003 |
| UNITED TRANSPORTATION UNION PAC (NORTH OMSTEAD) | VOTE ZWONITZER | CANDIDATE COMMITTEE | MONETARY | 7/14/2014 | FILED | 500 | NORTH OMSTEAD, OH 44070 |
| WY EDUCATION ASSN. PAC FOR EDUCATION (CHEYENNE) | VOTE ZWONITZER | CANDIDATE COMMITTEE | MONETARY | 7/14/2014 | FILED | 500 | CHEYENNE, WY 82001 |
| WY PUBLIC EMPLOYEES ASSN. PAC (CHEYENNE) | VOTE ZWONITZER | CANDIDATE COMMITTEE | MONETARY | 7/14/2014 | FILED | 500 | CHEYENNE, WY 82003 |
| WY REALTORS PAC (CASPER) | VOTE ZWONITZER | CANDIDATE COMMITTEE | MONETARY | 7/14/2014 | FILED | 1000 | CASPER, WY 82601 |
| WY TRIAL LAWYERS (CHEYENNE) | VOTE ZWONITZER | CANDIDATE COMMITTEE | MONETARY | 7/14/2014 | FILED | 250 | CHEYENNE, WY 82001 |
| WYOMING STOCK GROWERS' AG PAC (CHEYENNE) | VOTE ZWONITZER | CANDIDATE COMMITTEE | MONETARY | 7/14/2014 | FILED | 200 | CHEYENNE, WY 82003 |
| BURNS, BRUCE (SHERIDAN) | VOTE ZWONITZER | CANDIDATE COMMITTEE | MONETARY | 6/15/2014 | FILED | 100 | SHERIDAN, WY 82801 |
| WYO PAC (WYOMING MEDICAL PAC) (CHEYENNE) | VOTE ZWONITZER | CANDIDATE COMMITTEE | MONETARY | 6/15/2014 | FILED | 100 | CHEYENNE, WY 82003 |
| AT&T INC. FEDERAL PAC (DALLAS) | ZWONITZER FOR HOUSE 43 | CANDIDATE COMMITTEE | MONETARY | 10/15/2013 | AMEND - ADD | 100 | DALLAS, TX 75202 |
| BLACK HILLS CORPORATION PAC (RAPID CITY) | ZWONITZER FOR HOUSE 43 | CANDIDATE COMMITTEE | MONETARY | 10/29/2012 | FILED | 200 | RAPID CITY, SD 57709 |
| CABLEVISION SYSTEMS WYOMING POLITICAL ACTION COMMITTEE (BETHPAGE) | ZWONITZER FOR HOUSE 43 | CANDIDATE COMMITTEE | MONETARY | 10/29/2012 | FILED | 200 | BETHPAGE, NY 11714 |
| EXXONMOBILE PAC (IRVING) | ZWONITZER FOR HOUSE 43 | CANDIDATE COMMITTEE | MONETARY | 8/1/2012 | FILED | 150 | IRVING, TX 75039 |
| FARMERS EMPLOYEE & AGENT WYOMING PAC (CHEYENNE) | ZWONITZER FOR HOUSE 43 | CANDIDATE COMMITTEE | MONETARY | 7/15/2012 | FILED | 500 | CHEYENNE, WY 82003 |
| UNITED TRANSPORTATION UNION PAC (NORTH OLMSTEAD) | ZWONITZER FOR HOUSE 43 | CANDIDATE COMMITTEE | MONETARY | 7/1/2012 | FILED | 300 | NORTH OLMSTEAD, OH 44070 |
| WY EDUCATION ASSN. PAC FOR EDUCATION (CHEYENNE) | ZWONITZER FOR HOUSE 43 | CANDIDATE COMMITTEE | MONETARY | 7/1/2012 | FILED | 100 | CHEYENNE, WY 82001 |
| AT&T INC. FEDERAL PAC (DALLAS) | ZWONITZER FOR HOUSE 43 | CANDIDATE COMMITTEE | MONETARY | 6/20/2012 | FILED | 100 | DALLAS, TX 75202 |
| AT&T INC. FEDERAL PAC (DALLAS) | ZWONITZER FOR HOUSE 43 | CANDIDATE COMMITTEE | MONETARY | 11/1/2011 | FILED | 100 | DALLAS, TX 75202 |
| LAWYERS ACTIVE IN WY PAC (LAWPAC) (CHEYENNE) | ZWONITZER FOR HOUSE 43 | CANDIDATE COMMITTEE | MONETARY | 8/10/2010 | FILED | 100 | CHEYENNE, WY 82001 |
| QWEST COMMUNICATIONS OF WY PAC (CHEYENNE) | ZWONITZER FOR HOUSE 43 | CANDIDATE COMMITTEE | MONETARY | 8/10/2010 | FILED | 200 | CHEYENNE, WY 82003 |
| WY EDUCATION ASSN. PAC FOR EDUCATION (CHEYENNE) | ZWONITZER FOR HOUSE 43 | CANDIDATE COMMITTEE | MONETARY | 8/10/2010 | FILED | 200 | CHEYENNE, WY 82001 |
| WY RURAL ELECTRIC ASSN. PAC (CHEYENNE) | ZWONITZER FOR HOUSE 43 | CANDIDATE COMMITTEE | MONETARY | 8/10/2010 | FILED | 100 | CHEYENNE, WY 82001 |
| BNSF RAILPAC (FT.WORTH) | ZWONITZER FOR HOUSE 43 | CANDIDATE COMMITTEE | MONETARY | 12/15/2009 | FILED | 200 | FT.WORTH, TX 76161 |
| BROTHERHOOD OF LOCOMOTIVE ENGINEERS AND TRAINMEN PAC (CHEYENNE) | DANIEL KENT ZWONITZER | CANDIDATE | MONETARY | 11/1/2012 | FILED | 200 | CHEYENNE, WY 82009 |
| CENTURYLINK, INC., EMPLOYEES PAC (WASHINGTON ) | DANIEL KENT ZWONITZER | CANDIDATE | MONETARY | 9/15/2012 | FILED | 200 | WASHINGTON , DC 20001 |
| TRUCKING INDUSTRY PAC (CASPER) | DANIEL KENT ZWONITZER | CANDIDATE | MONETARY | 9/15/2012 | FILED | 100 | CASPER, WY 82602 |
| WYOMING STOCK GROWERS' AG PAC (CHEYENNE) | DANIEL KENT ZWONITZER | CANDIDATE | MONETARY | 9/15/2012 | FILED | 100 | CHEYENNE, WY 82003 |
| WYOMING STOCK GROWERS' AG PAC (CHEYENNE) | DAN ZWONITZER | CANDIDATE | MONETARY | 10/25/2010 | FILED | 100 | CHEYENNE, WY 82003 |
| TRUCKING INDUSTRY PAC (CASPER) | DAN ZWONITZER | CANDIDATE | MONETARY | 10/15/2010 | FILED | 100 | CASPER, WY 82602 |
| CHEVRON EMPLOYEES PAC (SAN RAMON) | DAN ZWONITZER | CANDIDATE | MONETARY | 10/11/2010 | FILED | 100 | SAN RAMON, CA 94583 |
| CONPAC CONTRACTORS PAC (CHEYENNE) | DAN ZWONITZER | CANDIDATE | MONETARY | 10/11/2010 | FILED | 250 | CHEYENNE, WY 82003 |
| EXXONMOBILE PAC (IRVING) | DAN ZWONITZER | CANDIDATE | MONETARY | 10/11/2010 | FILED | 125 | IRVING, TX 75039 |
| FARMERS EMPLOYEE & AGENT WYOMING PAC (CHEYENNE) | DAN ZWONITZER | CANDIDATE | MONETARY | 10/11/2010 | FILED | 150 | CHEYENNE, WY 82003 |
| LARAMIE REPUBLICAN PARTY CENTRAL COMMITTEE (CHEYENNE) | DAN ZWONITZER | CANDIDATE | MONETARY | 10/9/2010 | FILED | 100 | CHEYENNE, WY 82001 |